Why Choose Us?
We are locally owned in Fayetteville NC
Fayetteville NC Homes For Sale, Peachtree Properties
Why should I choose Peachtree Properties to represent me when buying or selling a home? What makes you different?
Fast Decisions and Creative Solutions: We are a locally-owned Fayetteville NC real estate company, with no ties to large, national corporations–meaning no bureaucracy PLUS the ability to quickly adapt to meet your unique needs.
Local Real Estate Expertise:Our company is keenly focused on the greater Fayetteville area, and we know our hometown well. We are also able to provide you references to other local services you may need.
Elite, Professional Representation: We take being your real estate representative seriously. Our real estate agents are carefully selected to uphold our high standards, as well as to build relationships with other Fayetteville, NC real estate agents.
Investors in our Local Community: Choosing a local Fayetteville, NC real estate company instead of a large, franchise real estate company means all of the brokerage fees remain in the Fayetteville community–otherwise 8% of each of those dollars is taken from our community.
Tell me about Peachtree Properties. I am hesitant about trying a locally-owned realtor over a national company. 
Company History–Established in 1996
After working in real estate for 14 years, Cyndi Lee McKinney went out on her own and opened Peachtree Properties in 1996. She had one main intent-to provide clients with the highest possible level of service.
Meet the Owner
Shortly after graduating from Pine Forest High School in Fayetteville, Cyndi Lee McKinney went to work for a local real estate company. From that moment on, her passion has been offering solutions to others' Fayetteville housing problems. She never tires of that first walk through of a home–viewing both its potential and drawbacks.
With over 35 years of experience, Cyndi Lee McKinney is a graduate of the Realtors Institute (GRI), and an Accredited Buyers Representative (ABR). She is still actively involved with the day-to-day operations of Peachtree Properties.
In her free time, Cyndi is the mom of two teens, who have helped her stay current on technology–she's even developed some pretty awesome Wii game skills along the way!  Their family enjoys traveling to the beach and going to a good movie.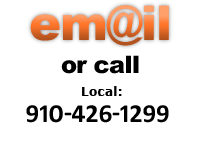 Meet Our Real Estate Associates
Melissa Davis
Broker Associate
Cell: 910-988-5118
Donovan Vos
Broker Associate
Cell: 910-813-7709